Make sure you indulge in the Everest Base Camp Training program before embarking on this journey, as it is a vital element to tackle the EBC Trek. Trekkers must be prepared well for strength training and cardiovascular endurance. Many picture Everest Base Camp Trek as a strenuous trek in their minds. But with proper training and preparation, you will discover that almost anyone can complete this trek.
The Everest Base Camp Trek trail is very achievable and doable for most people with or without prior trekking experience. Don't underestimate it, but you also don't need to be a super athlete to complete this trek.
As the majority of the trekkers are first-timers and are from sea levels, they have much difficulty coping with the heights of Everest Base Camp. You will have to cover the distance of 130 km and will be trekking for at least 10 out of 15 days, 5-6 hours each day to high altitudes of 5,545 meters during this trek.
So, you must be prepared both physically and mentally to complete this trek. Training for Everest Base Camp Trek at least 8-12 weeks before your trek will help you a lot in your journey. On the flip side, see this is an opportunity to lose some of those unwanted weights.
If you are already moderately fit i.e. currently involved in sports, then you're already halfway there! If you consider yourself not very fit at all, then you can begin a training program 6 to 12 months in advance.
You can engage in numerous kinds of workouts to prepare for the uphill trek to the EBC. Walking, Jogging, Running, sprinting, swimming, hiking, and cycling are some of the common exercises that will help you prepare for this trek.
You can also join the gym to train and prepare. The key is to build your endurance and leg muscles as you will be hiking a lot on this trek. But, remember to do shoulder training as well, as they also experience the weight of your backpack.
And if you want to go budget, you might consider checking YouTube professionals and their channels. So after training for six to eight weeks, you'll be good to go!
In this Everest Base Camp Training Program article we've outlined the benefits and things you can do to ideally get prepared for your lifetime adventure:
Benefits of Everest Base Camp Training program
If you're physically and mentally prepared for the Everest base camp trek, you'll get full-time delight throughout your overall journey. Some best motives why you should indulge in the Everest Base Camp training program are:
– To help in the preparation of the Hilly trek, training will help you develop the physical and mental strength needed to complete this trek
– To Strength thigh muscles
– To improve the body's ability to circulate 0xygen for higher altitudes
– To Minimize Altitude sickness/ AMS( Acute Mountain Sickness) as exercise is also a way to keep away the effects of altitude sickness
– To increase the level of endurance and gain muscle strength.
– To get the body comfortable/ used to the long duration and workout (6-8 hrs) i.e Trekking for a solid 6 hrs.
Additional Benefits of Training:
Help improve circulation, breathing, and endocrine functions.
Help strengthen your heart and reduces the risk of stroke and heart attack.
Help condition your muscles.
Help to strengthen your bones.
Help reduce cholesterol levels and blood fat.
Help raise your mental performance and enhances psychical well-being.
Help to burn your fat and also serves you to get in proper shape.
Besides, prior training and preparation also give you some idea as to how your body adapts to trekking for a long duration and also increases your level of confidence to tackle the Everest Base Camp Trek.
Everest Base Camp Training Program 1: Practice Hiking
Hiking is the only best way to prepare for the EBC Trek as no stairs or treadmills can recreate the conditions of a hiking trail. If you are a hill-walker or a hiker weekly, you should have the conditioning needed for the trek.
But if you are a first-timer or have no prior trekking experience in the mountains, then make sure you've done at least three long-distance hikes with minimum hours of 5-6 hours 3 months advance weekly.
Ideally, these should be performed in the actual hiking boots you will be using on Everest as there is nothing worse than a big red blister after day 1 of 15!
Going hikes are significant, so you can get used to the rhythm that hiking uphill for extended distances Involves. Start as soon as possible!
Aim to replicate the conditions as much as you can by Hiking uphill for 5-6 hours with some breaks. Wear the hiking boots, backpack, socks, and clothes that you'll be bringing to the real hike. Recreating the conditions will also help ensure that all the equipment is well-broken in and conveniently familiar to use on the real trail. The key is to build endurance and get used to walking for a longer period.
For hiking, you can choose outdoor local trails, or use whatever varied surface terrain you have access to. Better do it on rough, steep hills, and rough mountain trails so that you can have real experience of elevation gain and loss.
If you live where it is relatively flat you can go up and downstairs, or even go for a long walk or jogging regularly. Or, you can also train on an inclined treadmill or stair master. A reasonable hiking goal would be to scale 3,000 feet, carrying an average pack of 25 lb. in 3 hours, or approximately 1,000 vertical feet per hour.
You should go on hikes beginning at one or two hours, working your way up to 5/6 hours hikes. This hiking will help you develop endurance levels and enhance your stamina. For each hike, try adding 2 to 3 pounds. Progressively add weight to your pack until you are comfortable carrying a 25 lb. pack.
Then begin increasing the total altitude gain and distance. After you achieve 3,000 feet with a 25 lb. pack. Start reducing your rest breaks. Learn how your body reacts above 1,300 feet in height. A month from your trek, you should be comfortable carrying your target 25 lb pound.
A good training alternative for pack weight is also to carry gallon containers, so you can dump water at the top as required, to lighten the load for the descent. If you do these long hikes before your trek and you feel comfortable doing it, you should be fine for the actual trail!  Then, you are ready to embark on the EBC trek trail!
Further, these small hikes enable you to explore some amazing places and grant a great chance to get in close to nature. Also, you will learn how to deal with the wilderness. If possible, engage in as many altitude hikes as you possibly can.
If you don't have any places to hike near the places you live, you can also book an early trip to Nepal. There are many hiking trails in the hills surrounding Kathmandu valley. Nagarkot Chisapani trek and Phulchoki trek are available for anyone who is looking for a moderate and budget hike. These places have a height of more than 2000 meters.
Everest Base Camp Training Program 2: Gym Training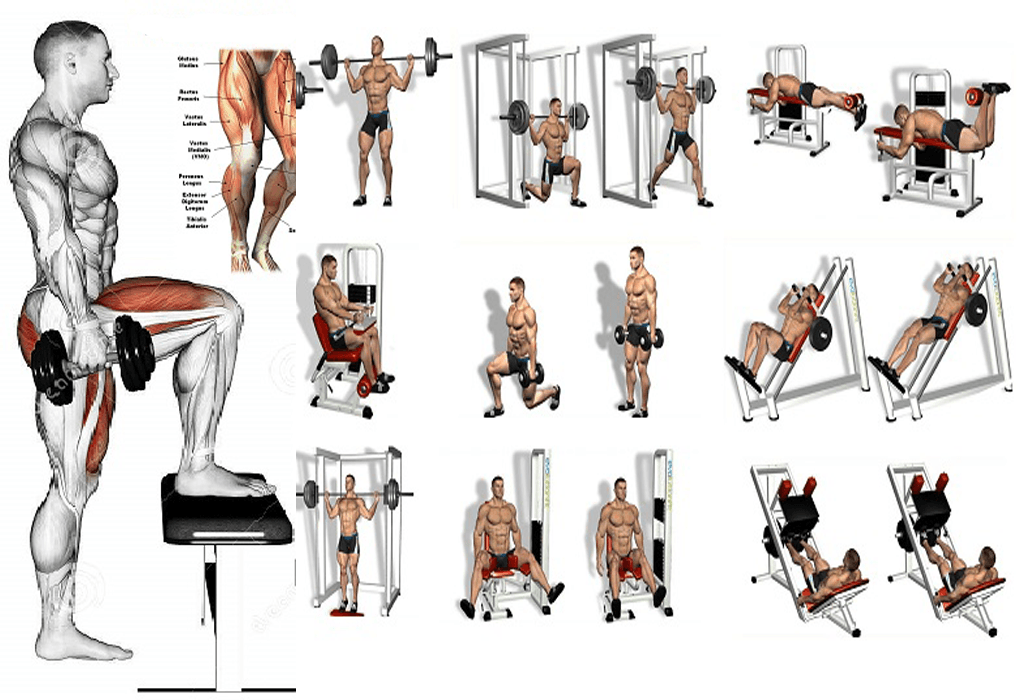 You can also hit the gym to train if you do not have access to hills and mountains. As most of the trekkers are from sea levels, finding a good hiking trail could get difficult. Gyms have a comprehensive range of equipment and assist you in developing particular muscles for specific parts of the body.
We advise training 4 to 5 days per week. In case you don't have access to these machines, running in the park or walking around the neighborhood will also do well. Focus on strength training for your legs. This will help you grow good thigh muscles. Thigh muscles are a top concern as the majority of the weight is in your thighs during the trek.
Another way to tighten up your thigh muscles is Squatting. You will be using your quads maximum. So do squats for strengthening your thigh muscles.
Here is a basic training program that will prepare you for Everest Base Camp using a treadmill and stair machine.
Training Program (2X per week)
45 minutes on the treadmill hill setting at a walk or slow job
10 minutes stair-stepping machine for at a speed of 30-45 steps per minute
5 minutes slow walk with no incline to catch your breath
Repeat 2-3X As you are able, extend the time of each interval.
For extra strength training, add 3 sets each of 30 lunges and squats to grow your leg muscles. Make sure you stretch thereafter. And, if you don't have a gym subscription, you can get one!
Additional Tips for Everest Base Camp Trek Preparation
Start training as early as you can
Get your gear early
Watch Your Nutrition
Learn a few stretches for your trek
Have maximum acclimatization as you can
Follow the golden rule of "slow and steady"
Hire porters to help you carry your load( Max: 20 kg)
Know the mountain rule: "What goes down must come up!"
In case you feel unwell during your trek, you should not try going any further. It can be fatal.
Always do stretching before and after your workouts for five to 10 minutes.
Drink plenty of fluids, 3-5 liters of water, and juice depending on your body weight.
Believe in yourself!
Add At least One day Extra to the End of your Trek, in case of unforeseen circumstances like Lukla flight delays and cancellation.
Get travel insurance!
Final Say
Everest Base Camp is certainly going to be a way more diverse experience than the training you've been working so hard for. So, take these proper measures and training programs prior to and during the trek.
Having finally reached there, you will realize that months of hard training have served you well. However, once you're all mentally and physically good to go, nothing is stopping you from making that trek happen.
And also keep in mind that the trek is not a race and you should consider your safety above everything else.
We hope you found this EBC Trek Training information useful.
"If you can see it in your mind! You can be there!"
Tell us about your trip to Mt. Everest and what you expect from it. We will promptly answer your questions within 24 hours and assist you to plan a trip with a flexible itinerary to best meet your needs.
More information about the Everest base camp package
Click Here
For more information about Equipment & Clothings, season, weather, and difficulty E-mail or CALL US.
Reference Websites:
Leg Workouts: The 30 Best Leg Exercises of All Time
https://www.menshealth.com/fitness/a19530404/leg-workout-without-weights/
https://www.coachmag.co.uk/leg-workouts/8036/do-this-leg-workout-at-home-to-strengthen-your-lower-body
https://www.self.com/gallery/killer-legs-no-gear-required-slideshow